Designer of the UK's first master's programme in children's book illustration, Martin Salisbury is a professor of illustration at the prestigious Cambridge School of Art and a celebrated author. A analyst of contemporary picture books, he is a keen witness to the global picture book and illustration industries, which placed him in the juries of some of the most important international competitions, including those of Bologna, Seoul and Frankfurt. In 2021, we are glad to have him on board the Golden Pinwheel Young Illustrators Competition jury.
We spoke to Martin about why he started the MA Children's Book Illustration programme, books he likes, tips for young illustrators, and more.
Q=China Shanghai International Children's Book Fair(CCBF) A=Martin Salisbury
Q: How did the illustrator master start at the Cambridge School of Art? What knowledge and know-how can one acquire through the programme? What do you think makes it special?
A: I designed the MA course in 2001 and we started with a tiny group of nine part-time students. At that time, I was course leader for the BA Illustration programme. It had always been a mystery to me why children's book illustration was regarded by many as a 'soft option'–it was less highly regarded than, for example, editorial illustration (magazines and newspapers).
I felt strongly that it was a field of creative endeavour with enormous potential for 'ownership' by illustrators. I was motivated by a strong desire to see children's book illustration taken seriously, in art schools and academic institutions as a whole. We were lucky to have some very strong students on the course in the early days and as their books began subsequently to be published and seen in the book shops, people became aware of the standard of work coming from the course.
Within a few years we were inundated with applications from all around the world. What makes it special? Well, we have a fantastic staff team of top illustrators who are all highly dedicated to the students whilst also continuing their own practice. It's very special to me- I have loved every minute of working with such wonderful students and colleagues. There is a great sense of a shared passion. The students are so supportive of each other. They form lifelong friendships and I remain in touch with many of them around the world. Oh, and we have lovely studios and a great printmaking workshop too!
Q:You are receiving an increasing number of Chinese students in your master's programme. Do you see common characteristics in their artistic practices?
A:Well, there are certainly different cultural references, different graphic traditions. But, as with all students, they are in the end all individuals, with their own ideas and passions that inform the kinds of ideas they have and the kinds of books they want to make. We enjoy having students from so many different cultures. They all influence each other and learn from each other.
Q:Through your research and teaching, you are a keen witness to the international picture book and illustration industries at a global level. What are the most interesting trends and books you have seen recently? What kind of production excites you most?
A:Such a difficult question! I like all sorts of books. For many years I bemoaned the way UK publishers were so conservative in their attitude to illustration. Happily, that situation has changed considerably in recent years and there are now lots of smaller independent publishers who have pioneered the commissioning of artists from other cultures. When teaching, or acting on competition juries such as Bologna and others, I try to put aside personal taste. But I suppose I would say that I particularly like books that have a strong sense of print- of ink on paper, beautifully designed and printed as well as illustrated, and making the most of textures and the tactile, haptic potential of the book.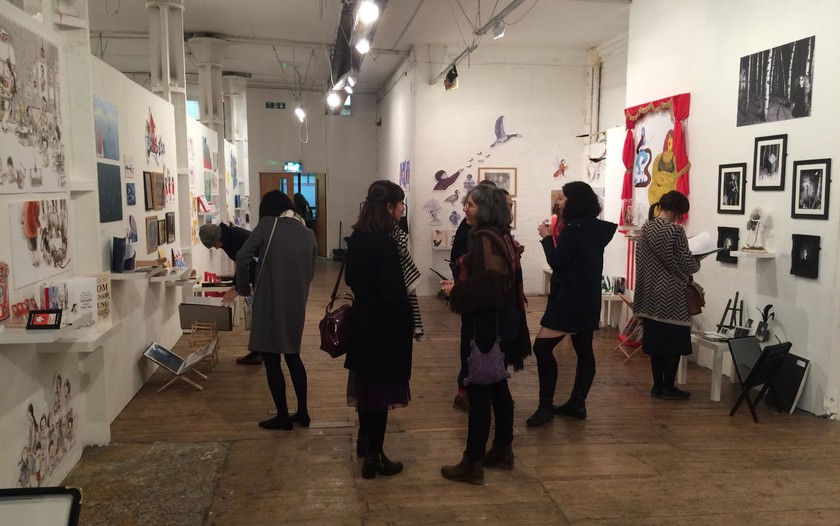 Q:How about the UK? What would you say about the current state of British illustration?
A:As touched on above, I think we are in exciting times at the moment, with much more recognition of the art of the picture book-maker. We are seeing many well-known artists trying their hand at children's book illustration. It is no longer seen as a lesser art. And of course with social media, everyone has access to a wide range of potential influences from around the world. This is obviously a positive thing but at the same time it can lead to imitative work on occasion.
Q:Do you have any tips or recommendations to help artists planning to take part in illustration competitions?
A:Only to be as professional as possible in terms of making sure you have read and understood all of the entry requirements. A combination of being professional, imaginative – creatively ambitious and, most importantly of all, be yourself—find your own visual 'voice'. These competitions are really important for aspiring and established illustrators alike, so I would encourage anyone to enter. It's a chance for your work to receive international attention.