Based in Milan, the Debbie Bibo Agency represents and promotes an eclectic selection of debut and award-winning authors and illustrators from around the world. Its founder Debbie Bibo gladly accepted our invitation join the 2021 Golden Pinwheel Young Illustrators Competition jury. Here is a close up on her work and first -hand information about the fascinating role of a literary agent.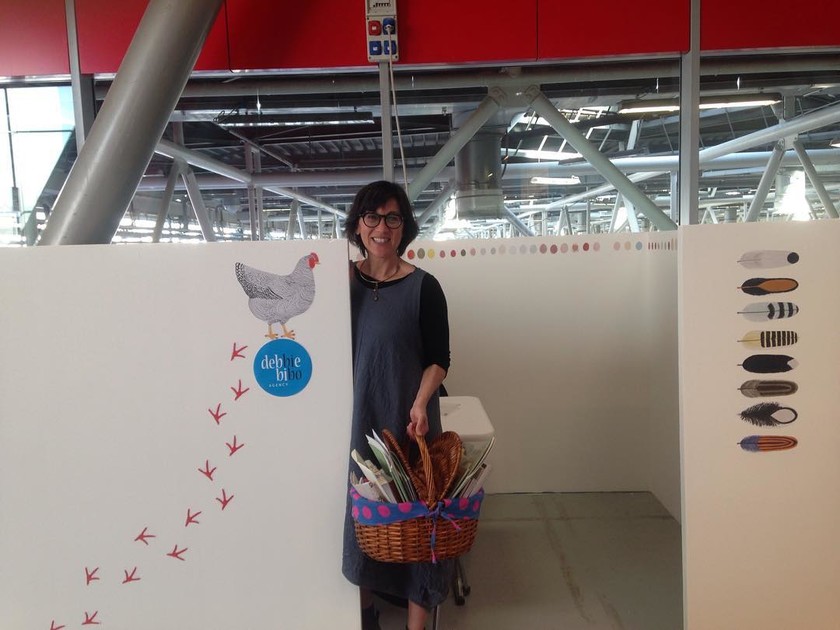 Q=China Shanghai International Children's Book Fair(CCBF) A=Debbie Bibo
Q:You were born in the USA, have Japanese origins and work with publishing houses from all over the world from your Milanese office. How do you describe and understand the diverse sensibilities that operate in the publishing markets of different regions? Is there a universal component that makes books successful worldwide?
A:From a purely visual point of view, the differences in regional trends, traditions, and tastes can be compared to the distinctiveness of regional cooking. While some local flavours and dishes catch on quickly abroad–think dim sum, sushi, and pizza–others may be too particular to cross borders. When it comes to picture books, there are certain illustration styles and techniques that have a wide appeal, and others that resonate more on a regional or continental level.
I gain insight into the diverse market sensibilities by meeting with and speaking to publishers from around the world regularly at book fairs, on business trips, in telephone and video calls, and in emails; by receiving publishers' positive and negative comments to our books and projects; and by observing and analysing the picture books produced annually in different markets. A great way for authors and illustrators to do this is to check out the books awarded each year in a given country. This is usually a good indicator of what that particular territory values in picture books, both visually and in terms of content.
If there is a universal component that makes books successful worldwide–I'm not sure there is one–I think it would be a combination of great storytelling, an original and authentic voice, illustrations that not only complement but elevate the text thereby moving something in the reader, timing, and… marketing! An author can create a masterpiece but if it isn't promoted or marketed strategically, nobody will ever read or see that work of art.
Q:Literary agents are no common figure in the Chinese publishing world. Can you explain what are the advantages for an illustrator to work with an agent?
A: I like to think of agents as a bridge or a map, in that both help facilitate a journey. You don't need either to get to where you want to go, but crossing a bridge is certainly faster than taking a boat or swimming across a body of water. The perspective you have from a bridge or after consulting a map is also different.
So, one major advantage is having an expert in the field help you navigate the industry from the inside. Through a network of ongoing and often longstanding relationships with editors, publishers, art directors, and other professionals in the field, agents are regularly in touch with the people who acquire books and commission illustrations.
We know their general terms and conditions, how they work, and the type of projects as well as the style of illustrations they are looking for. If a publisher mentions that they are looking for non-fiction picture books, as an agent I ask specific questions to gain a better understanding of the type of non-fiction books they are looking for in particular. Then, I pitch the projects that we represent that fit the description. If the publisher already has the text and is seeking an illustrator, I try to understand the style or look they are going for, particular characteristics about the book that could help me come up with the right match in terms of illustrator(s), and, of course, the schedule. Once I have this information, I propose the illustrator(s) whom I think could be a good fit for the project.
Other advantages of being represented by an agent include having someone you trust – the agent-artist relationship must be based on mutual respect and trust in order for it to thrive–promote and publicize your work, negotiate conditions and contracts on your behalf, create new opportunities for you and your work, give you honest feedback about your work, help edit, art direct, and fine tune your work, and help guide your career.
Lastly, as illustrating is a solitary activity, I think authors and illustrators who have agents feel supported because they have someone to bounce ideas off, to defend their choices when they need defending, to mitigate rejections and to celebrate achievements.
Q:How do you think illustration competitions can help young artists boost their career? Do you have any tips for our contestants?
A: First, it's a great opportunity for an illustrator to create a new body of work regardless of the outcome. If their work is selected, contests can offer a lot of visibility and recognition. People tend to look at a work differently after it's received a prize. The same applies to the illustrator. We represent a few artists whose work I first saw in the Bologna Children's Book Fair Illustrators Exhibition. Their work really struck a chord with me and I reached out to them immediately.
Here are my tips:
Submit your best work.
If you don't have a series of 5 illustrations, create something new.
Make sure that the 5 illustrations share a uniformity of style, lines, colour palette.
Don't worry about trends or what other illustrators are doing: do your own thing.
Show the work to a fellow illustrator and ask what can be improved.
Submit your best work
Q:You started your professional career in the world of art publishing. Illustrators do not always consider themselves as "Artists", and the contemporary art market is not very receptive to illustration. Where do you think this duality comes from? Are things changing?
A: As illustrators are often commissioned assignments, their work is at the service of the client and the consumer. Where art is a language that viewers may or may not comprehend, illustrations must communicate a message through the artwork. If the message is mumbled, the illustrator will have to rework and revise until it is clear. An "artist" doesn't have these same constraints. That, I believe, is at the heart of the duality. Having said that, however, some of the greatest and most influential artists of our time were illustrators and cartoonists: Charles M. Schulz, Saul Steinberg, Judith Kerr, Beatrix Potter, Maurice Sendak, Hayao Miyazaki, Quentin Blake, etc.
In 2013, I was in Paris and went to see an exhibition at the Musée d'Art moderne de la Ville de Paris dedicated entirely to the work of Robert Crumb. That's when I felt the shift take place. To see the drawings of Robert Crumb in an institutional setting was exciting for what it implied: the lines between "high and low art" were finally being blurred. The following year, in 2014, Crumb's original drawings from The Book of Genesis (published six years before its art debut), exhibited at the Venice Biennale, the apex of art.
Additionally, thanks to the backlash to the notion that printed matter would die with the onset of e-books, for the past several years we've been experiencing a new golden age of picture books where authors and illustrators are revered like stars and superheroes! This has undoubtedly elevated the profession and changed the perception of the role that illustration plays in the lives of children (and adults).
Q:What qualities do you look for in the illustrators you work with? Is there something that characterizes your portfolio of clients?
A: I look for seriousness, professionalism, trust, the ability to listen, humility, a singular voice-vision-style, lightness, humour, the power to amaze, and an inspiring visual universe.
The one thing that characterises our portfolio of clients is that they all have something to say!
Q:Would you like to recommend our readers a children's book that has marked you especially over the years?
A: