In the last Golden Pinwheel International Young Illustrators Competition, Yuliya Gwilym, an illustrator from Ukraine, Golden Pinwheel Young Illustrators Competition Astra Award for her narrative style and was invited to create the key visual illustration for the 2023 China Shanghai International Children's Book Fair CCBF. The organising committee of the Shanghai Children's Book Fair had the pleasure of interviewing Yuliya, so let's enter Yuliya's world of illustration and experience the free and colourful world in her eyes!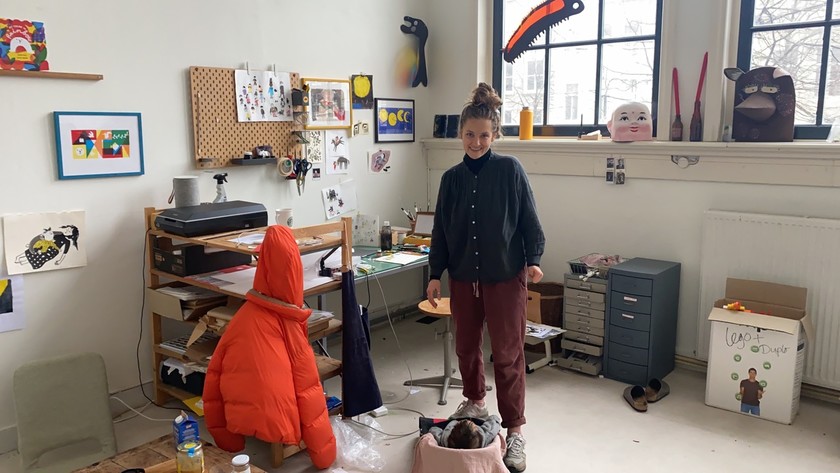 C=China Shanghai International Children's Book Fair(CCBF) Y=Yuliya
C: How's your life and work recently in Netherlands? Are there any projects in progress?
Y: It's been good, I am enjoying the slow change of seasons and looking forward to warmer days ahead. I am currently working on illustrating a picture book, it's a slow process as I don't have any childcare and am almost always with my kids. I like it though and since the deadline isn't very strict it allows me to go at my own pace and enjoy the process while simultaneously enjoying my life with family. Of course I am not always that relaxed about this arrangement and sometimes I feel stressed out :) I am also (very slowly) working on two personal book projects which I hope to be able to share more about in the next year or so.
C: Could you talk about your source of inspiration while you're creating the 2023 CCBF Key Visual? What story your artwork is going to tell us?
Y: I thought about creating a carnival. When I am attending a book fair I feel like I am at a big party, and because it's about children's books, there are colours and magic, and stories are far from ordinary. So I wanted my characters to be dressed up, and I wanted the feeling of carnival or parade. My inspiration comes from kids' love of dressing up.
C: Which part of the creation process impressed you most?
Y: Well, I enjoyed the challenge of creating something which is a single image yet feels like it conveys stories, I liked to think of each character in the parade and what their story could be.
C: We saw many characters dressed alternatively appearing in the picture, such as a wearing-four- shoe elephant, two holding-hand wolf guys, and a little girl who seems unhappy…Are they all costumed kids?
Y: I don't know… are they? They might be or they might be not. That't the fun part of a carnival. I think the little grumpy mushroom girl, one of my favourite, wanted to be dressed as someone else but her mum probably made her a mushroom outfit.
C: How to understand the expression on the tiger balloon? What is the tiger thinking about?
Y: I think he is thinking about his dinner.
C: Does the tiger balloon and the sneaky bunny symbolised the Chinese year of Tiger and Rabbit?
Y: They do.
C: You've designed their shadows for each character, which is very interesting indeed. Where does the creativity of shadows come from?
Y: My kids really enjoy shadow play, we play with shadows and sometimes make little stories around them. Shadow is part of the physical world yet it seems like it belongs to a fantasy place. When I was creating my characters I thought why not have their shadows come to the carnival too.
C: Do you have your own color system when creating?
Y: I like to work in limited colour palette, but it's different depending on each project.
C: Could you please introduce the materials and techniques you used in the creative process?
Y: I used a combination of drawing with crayons and ink, some collage, some simple printing techniques.
C: You studied graphic design in college, and now focusing on the illustration. How do you think your previous experience in graphic design will help you with your current illustration work?
Y: I think my background in Graphic design informs my aesthetics a little bit, I like simple shapes, I enjoy limited colour choices and maybe I see composition from a different point of view than if I was a fine artist? I don't know. I guess it also makes me somewhat tech savvy.
C: What motivates you to create?
Y: I wouldn't say I have a motivation, but more a need to create. I feel like it's my outlet to be happy. Since becoming a mother I have experienced it even more, I feel like creating every day to feel myself. It doesn't always have to be a drawing, it could also be a sand castle, a cardboard monster or a good meal.
C: What advice would you have for young illustrators?
Y: Don't listen to any advice because it's too overwhelming. Keep working on your stuff and only make what YOU think is cool, not anyone else.
If you also have a passion for illustration and a unique artistic expression, the organising committee of the Golden Pinwheel International Young Illustrators Competition is looking forward to your submissions and participation. From now until 26 June, the 2023 Golden Pinwheel Illustration Competition is open to illustrators, artists, art school students and illustration enthusiasts aged 16-39 from around the world. By entering this competition, you will have the chance to win prizes and great business opportunities!